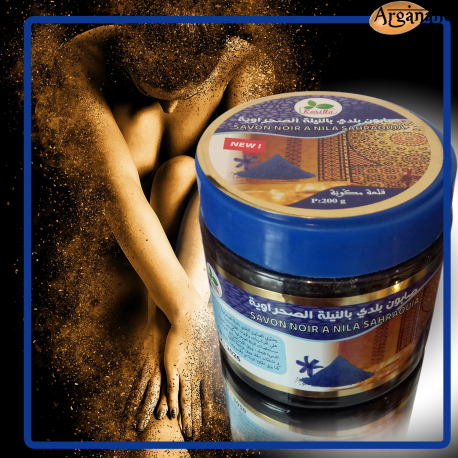  
Savon noir au Nila 200 gr - Rositta
Price : 4,90 euros. Black soap is natural. It eliminates dead cells, your skin is soft and satiny. This soap contains Nila which is a natural mineral from the Sahara. It is known for its effectiveness as a face, body and hair care. Proceed with an exfoliating glove to remove dead cells.

A 100% natural soap with Nila.
What is Nila powder and where does it come from?
Nila powder is a naturally indigo blue powder found in the Sahara. It has been the beauty secret of Sahrawi women for more than 1500 years. It is 100% mineral in nature, since it comes in the form of rock that is recovered and then reduced to powder.

What properties?
Nila Powder is known for its whitening, brightening, moisturizing, and softening properties.

What benefits?
It helps to lighten the complexion, softens rough areas (knees, elbows, feet). Moisturizing, it leaves the skin very soft. It helps reduce dark spots and signs of aging. Anti-wrinkle, it rejuvenates the skin. Its natural moisturizing formula leaves the treated areas soft and silky.

What recommendations?
Nila powder can be incorporated into your skincare products; it can be combined with other plant powders, vegetable oils, oily macerates, hydrosols, essential oils and vegetable glycerin.
It is very effective in the form of masks, scrubs; or mixed with lemon juice. Mixed with Black Soap, it is effective in eliminating dead skin, naturally brightening the complexion, and softening the skin.
DIRECTIONS :
To make a good scrub, take his time. Prefer Sunday for example. Either way it is not useful to do more than once a week.
First, we must heat the bathroom, plunge his body in hot water (not hot!) So that the skin is well hydrated for a few long minutes.
Then coat with black soap preferably avoiding the face. Leave for 5 minutes then rinse with warm water, the skin is then ready for the scrub.
Then firmly rub the body with Kessa (scrubbing glove). The dead skin is removed by dirt and debris with various other toxins, like a gum which rub on paper.
Rinse with warm water (not hot this time to avoid marking).
The scrub is complete. But not the toilet!
Indeed the soap is not really made to wash and it would be a shame to stop there because now the fun begins.
The most pleasant moment is to wash the body gummed with a natural soap without perfume if possible, such as soap to surgras Gift Nature argan oil, hypoallergenic.
And finally, to rub the body with Argan Oil 100% pure. Very moisturizing and wrinkle, this dry oil is very penetrating.

Data sheet
Weight/Capacity

200 g

Compositions

eau,hydroxide de potassium,huile de grignons d'olive,poudre de nila

Laboratory

Rositta
Reviews about this product
Show attestation
Customers who bought this product also bought: