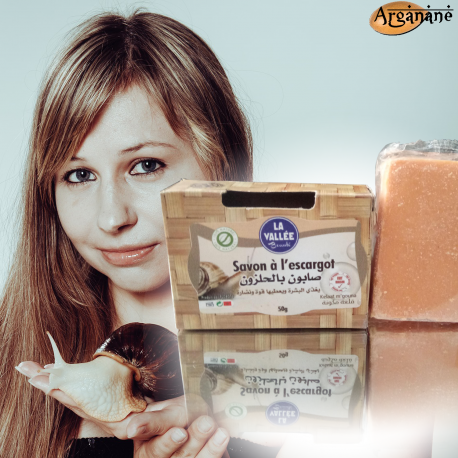  
Savon à l'escargot - La Vallée beauté
Price : 4,90 euros. Snail mucus soap or snail slime handcrafted in Morocco from the natural secretions of snails. Snail slime since ancient times has been one of the best remedies for treating skin problems.

All skin types, even oily or problematic. Origin: Morocco.
Indication:
- Dry, acneic, dehydrated, irritated, wrinkled skin
- Face and body hygiene

Cosmetic properties:
Regenerating
Restorative
Moisturizers
Skin tensor
This soap brings softness and elasticity to the skin thanks to these natural components:
Allantoin regenerates and repairs skin tissues, such as those affected by acne, the scars it leaves, burns, areas of blackheads, and skin spots due to aging or exposure to the sun.
Collagen gives tissues mechanical resistance to stretching, which is essential for the healing process.
Elastin plays a special role in the suppleness of the skin, and in particular helps fight skin aging.
Glycolic Acid improves skin texture and appearance, reduces fine lines and wrinkles, skin blemishes and dark spots. It refines the texture of the skin and brightens the complexion.
Vitamins A and C promote hydration of the skin, act on skin aging, aid in healing and give the skin a boost.
Use: Lather and leave to act for 2 minutes then rinse.
Ideal for gently washing the skin.
 
Composition: Vegetable fatty acid - snail secretion

Daily use
Data sheet
Weight/Capacity

70 g

Compositions

Acide gras végétal - sécrétion d'escargot

Laboratory

Florose