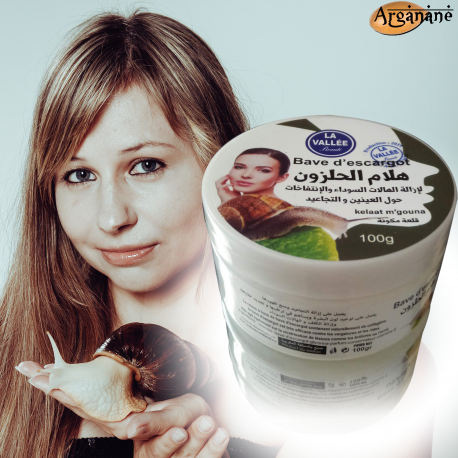  
Bave d'escargot 100 g - La Vallée Beauté
Price : 4,90 euros for 100 g. Snail slime naturally contains collagen which is very effective in treating skin imperfections such as wrinkles, acne, dark circles, stretch marks ...
Produced in Morocco.
Snail slime cream has components like allantoin, collagen, elastin, glycolic acid, antibiotic peptides, and vitamins A and C. These properties allow snail slime cream to 'have an anti-blemish, anti-wrinkle action, prevents stretch marks.

    Paraben free
    Rich in allantoin
    Anti-wrinkle
    Skin regeneration
    Hyper hydrating
    Acne treatment

Suitable for all skin types.

Benefits of snail slime:

    Nourishes the skin and regenerates cells
    Gives the skin softness and suppleness
    Unifies the color of the skin
    Eliminates black and brown spots on the skin
    Acts effectively on lightening and whitening of the skin
    Delays the appearance of wrinkles and signs of aging
    Helps treat acne

USAGE TIPS :
In daily use. On the face, neck, body, in massages. You will have well nourished skin that is soft and supple to the touch. In the morning after washing as well as in the evening.

Precautions for use: Avoid contact with eyes.
Data sheet
Weight/Capacity

100 g

Compositions

cfème,bave d'escargot,glycirine,parfum,conservateur,vitamine E

Laboratory

Florose
Customers who bought this product also bought: