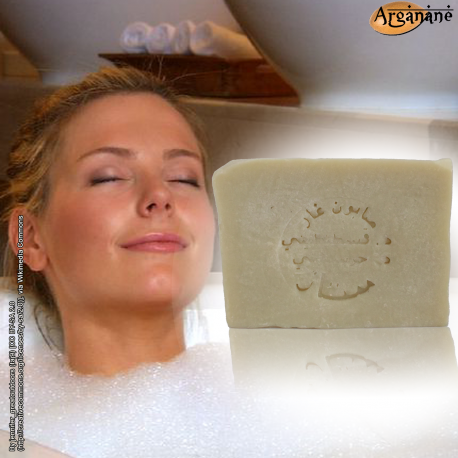  
Savon d'Alep Premium 16 % laurier
Prce : 8,00 euros. Recommended for
the
washing and
care
of
the
skin
and hair.
This

Aleppo soap

is made of

first pressure

oils.




This exceptional

Aleppo soap

is obtained

by cold

saponification

original process

.



This unique

recipe

preserves all the

noble

qualities

of the olive

oil

and

laurel

.


Oils

retain their

properties

for the skin,

the scent

of the

Aleppo

soap is

(unlike

the

typical

smell of

traditional

Aleppo soap

)

very nice.
If Syria packed with treasures dating from the Roman, Byzantine and Mamluk, with mosques, churches and castles of the Crusaders, it is now disfigured by a civil war that continues to destroy it. And when our ears echoes the name of Aleppo, one can not help thinking of the soap makers and their famous recipe which allowed them to develop the first ever soap. It was in the seventh century ...
The birth of Aleppo soap results from the discovery of saponification in antiquity. Aleppo soap is also a color that can vary from pale yellow to dark green. Plant, the scent that emerges is tricky. Irregular in shape because even hand cut, soap takes the form of a cube of about 200 g. A buffer representing the master soap maker is hit on one of the main faces of the cube. Halved, soap reveals a beautiful deep green. Contact with air, the cut becomes brown to green once again become scratched.
Olive oil is moisturizing and protects the fat from the skin. As for the bay laurel oil, it is antiseptic and healing. Here is a cocktail of benefits that can be used for daily cleansing, both for the body as the face and hair. The slight scent of cloves and nutmeg that emerges is due to bay laurel. The combination of these beneficial plant oils, added to the original expertise of Aleppo soap makers, make the reputation of this exceptional soap, surgras said, very soothing to some skin conditions.
It is economical because it lasts much longer than any other existing soaps. As low foaming, it is recommended for washing babies, the skin of the latter being flushed quickly.
Moreover, it leaves no trace of perfume. And feeding at will, it makes the skin beautiful.
Data sheet
Weight/Capacity

125 g

Compositions

Sodium olivate, Sodium laurus nobilate,aqua,sodium hydroxide

Laboratory

La Maison d'Orient