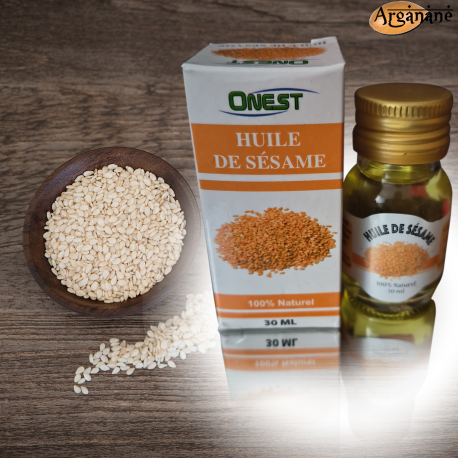  
Huile de sésame 30 ml - Onest
Price: 4,90

euros 30 ml.

Sesame oil is known for its regenerating and softening properties for the epidermis. Its vitamin E, sesamolin and lecithin content gives it antioxidant properties that are ideal for mature skin. Its nutrients make it an ally both in the kitchen and in the bathroom (skin and hair).
Origin: Morocco

Originally from India, sesame has been known for millennia, at least 3000 years according to the sources! It is an annual herbaceous plant 1 to 1.5m high with elongated leaves. From May to July, it will give white or pink flowers grouped by 2 or 3 in the axils of the leaves. Its fruits will have a capsule shape with several compartments. Sesame, we know it mainly in the form of seed, and it is precisely in these capsules that they are contained. There are up to 200 per capsule! Sesame vegetable oil is obtained by cold mechanical pressing of the seeds. These can be roasted, but for cosmetic use it is preferable to use them as they are to make the most of all their benefits, on hair and skin.
Sesame oil is rich in vitamin E (1.1 mg/100 g) and vitamin K1 (13.6 mg/100 g). It is also packed with monounsaturated fatty acids (omega 9, 40.2mg/100g) and polyunsaturated fatty acids (omega 6) 40mg/100g).

Sesame oil, a formidable ally in the kitchen
Used cold in salads or cooked in your hot dishes, sesame oil is rich in good polyunsaturated and monounsaturated fats that help lower cholesterol levels in the blood. People who like its very pronounced taste enjoy a few drops at the end of cooking.
In cooking, it is mostly unroasted sesame seed oil, but there are roasted sesame seed oils that have an enhanced flavor. However, they require a lighter hand.

The benefits of sesame oil massage
Sesame oil penetrates quickly under the skin and nourishes it deeply. It therefore makes an excellent massage oil that keeps the skin supple and elastic, protects it from microbes and accelerates healing. In infants, it reduces the risk of irritation in the buttocks.
To give yourself a moment of well-being before going to bed, apply a teaspoon of sesame oil to your feet, massage, put on socks so as not to dirty your sheets and enjoy your night!

Sesame oil for good dental hygiene
By making a mouthwash with sesame oil, you reduce the rate of bacteria by 85% and thus reduce the risk of gingivitis.
In the morning, on an empty stomach, even before drinking water, take 1 tablespoon of sesame oil and pass it between your teeth from top to bottom and from right to left for 20 minutes.
The oil quickly becomes thick and whitish, a sign that the toxins present in the mouth have gathered there. Above all, do not swallow it! After about 20 minutes, spit out the oil and rinse your mouth with water. Not only will you eliminate most of the toxins and bacteria present in your mouth, but you will also keep a feeling of freshness and cleanliness for a long time.

Sesame oil: help with constipation
During periods of constipation, sesame oil is a valuable ally. Used in addition to other dietary measures (drinking water and eating fiber), it helps the digestive system to get back on track. A tablespoon in the morning or evening is enough to lubricate the intestine to relieve constipation.

The benefits of sesame oil for hair
To make your hair shine without using chemicals, opt for sesame oil. Its essential nutrients will protect the hair fiber and the scalp, thus limiting the appearance of dandruff and hair loss.
In children, it is a formidable anti-lice weapon. Soak your hair with sesame oil by massaging your head, leave for 30 minutes and rinse thoroughly with warm water and shampoo.
Data sheet
Weight/Capacity

30 ml - Glass bottle

Laboratory

ONEST