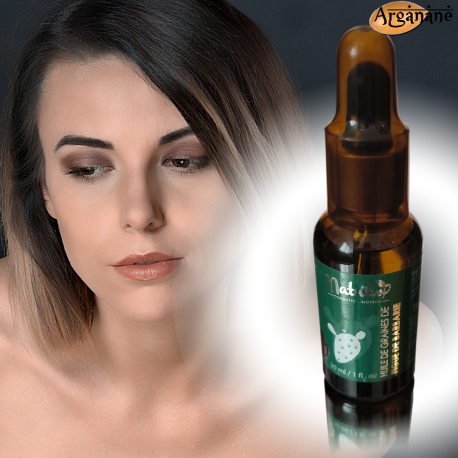  
Huile de graines de figue de barbarie bio 30 ml - Natulux
Price: 48,90 euros for 30 ml. Prodigious oil rich in vitamin E, fatty acids and omega 6. Oil
anti wrinkles, anti dark circles and anti age which restores firmness and tone to the skin.
Moisturizing and nourishing for all skin types. Strengthens the nails. Body and hair use.
A virgin and ORGANIC Prickly Pear Oil certified by Ecocert - 30 ml in a glass bottle with pipette
Organic prickly pear oil Natulux, obtained by pressing the seeds of prickly pear
The precious Ayda prickly pear seed oil
Overall, it is very rich in natural active ingredients, especially vitamin E and Omega 6. Thus, it is an ideal ally for your facial, neck and décolleté care routines. In addition, the precious Natulux vegetable oil is pure and certified organic.
In order to extract vegetable oil, figs are collected in Morocco. Then, the women of the cooperative extract the precious pips from its fruit. They are then washed and dried before being pressed.
Subsequently, once extracted, it is analyzed in Morocco by an independent laboratory.
On the other hand, for better conservation, the oil is packaged in glass bottles. Also, to facilitate its application, the bottle is equipped with a pipette. Thus, our bottle minimizes the oxidation time of the oil by its hermetic side.
Tips for using Natulux prickly pear oil
Unlike argan oil, prickly pear oil is a dry oil. Thus, it is suitable for skincare routines for oily, combination and dry skin. Also rich in vitamin E, it is ideal for a mature skin care routine.
Face application tips
To nourish and protect your skin, wash your face first. Next, apply Damask Rose Hydrosol to the area to be nourished.
Without drying your skin, apply 1 to 2 tears of prickly pear vegetable oil in the palm of your hand. Then heat the oil by rubbing both hands quickly. Then gently massage your face for about 1 minute.
Finally, also apply a dab of prickly pear oil to the neck and décolleté area.
Prickly pear oil for your evening routine
Also, it should be noted that this skincare routine should be favored in the evening, before going to bed.
Indeed, it is at night that the cell renewal process is most effective. During the day, our skin fights all external aggressions: pollution, sun, cold, or stress. Ultimately, it is when we are safe from all these attacks that our skin regenerates the best.
This is why we recommend using it as an evening routine.
Our little extra tips
Prickly pear seed oil to mix
It should be noted that prickly pear oil is an ideal ingredient to add to your homemade treatments. Indeed, it can be associated with your face masks to energize your skin. For example, for a rhassoul mask, just add a few tears of fig seed oil. Thus, the mask with rhassoul and prickly pear revitalizes the skin and softens it.
Then you can also combine 2 drops of oil with your cream. Thus, it enriches the cream with active ingredients naturally present in prickly pear oil.
Conservation tips
First of all, the oil is best stored in a glass bottle. In addition, the bottle must be airtight in order to limit its oxidation. This is why the oil is packaged in glass bottles with a pipette. Thus, prickly pear oil preserves all its natural properties.
Finally, we recommend that you store the oil away from light and heat.
Natural active ingredients of the precious pure prickly pear oil Natulux
A concentrate of Omega 6
Thus, this concentrate of natural active ingredients is first and foremost rich in Linoleic acid, called Omega 6. To be honest, its rate is 62.60%.
Because it is rich in linoleic acid, prickly pear oil is an ideal oil for targeted care. Indeed, the intake of Omega 6 is essential for our body, which is not able to synthesize it. In addition, Omega 6 strengthens the skin barrier.
Rich in anti-oxidant (vitamin E)
Next, fig seed oil is particularly rich in tocopherols, which correspond to vitamin E. Indeed, it has a rate of 1000 mg / kg. Overall, vitamin E is an anti-oxidant that helps protect skin cells against free radicals. In this, it is an oil perfectly suited for mature skin.
Prevent skin dehydration
Finally, prickly pear seed oil is made up of sterols. Overall, this active ingredient locks in hydration and strengthens the skin's natural barrier. Thus, Sterols promote hydrolipidic retention of the skin. Prickly pear oil has a sterol level of 3,15 %.
Omega 9 or oleic acid
Prickly pear oil has an omega 9 level of 19,7 %. It should be noted that oleic acid strengthens the hydrolipidic film of the skin. Thus, it helps maintain the elasticity of the skin as well as its hydration and suppleness.
Did you know ?
In sum, a single prickly pear can contain 50% juice and around 4% seeds. Then, from these seeds can be extracted on average 3% of their weight in oil. Thus, it takes about 30kg of seeds, or pips, and more than 1 ton of fruit to produce 1 liter of oil.
All of these products are natural. For this reason, the color and smell may therefore vary from batch to batch. We are continually looking to improve our product line. Therefore, the products you receive may sometimes be slightly different from the images shown on our site.
Data sheet
Weight/Capacity

30 ml flacon en verre luxe

Compositions

100% OPUNTIA FICUS INDICA SEED OIL : ingrédients issus de l'agriculture biologique

Laboratory

Natulux