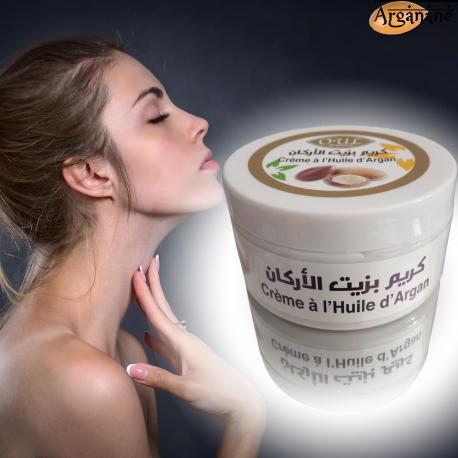  
Crème à l'huile d'argan - Oul M'Gouna
Price : 6,90 euros. Oul M'Gouna cream with argan oil is smooth and nourishing, it firms and softens dry and wrinkled skin, it is an excellent anti-wrinkle cream. It also protects the skin against the sun and bad weather.

Creamy, penetrating and paraben free cream.

Product of Morocco.
Firming Cream, softening and nourishing. It is beneficial for dry and wrinkled skin thereby regain or maintain flexibility and softness.
It also protects your skin from external aggressions such as wind, sun or pollution.

Suitable for all skin types.
The natural argan oil comes from the tree called Arganier, which comes from Morocco and mainly located in the region of Souss and its neighboring regions. The vegetable oil which is extracted from the nuts of the argan tree is used as cosmetic oil.
Due to its high content of fatty acids (omega 6 and 9) and vitamin E, argan oil is full of moisturizing properties, scientifically recognized. Very nourishing, it helps fight the signs of skin aging by activating cell regeneration and restoring the skin's hydrolipidic film. Ideal for improving the elasticity and firmness of the skin, argan oil also helps fight against external aggressions such as wind and sun. It is used daily, pure or mixed with a cream, and preferably in the evening because of its very oily texture.

DIRECTIONS :
In daily use. On the face, neck, body massages. You will have a skin well nourished, soft and supple to the touch. The morning after washing as well as the evening night cream.

Handling Precautions: Avoid contact with eyes.
Data sheet
Weight/Capacity

200 g

Compositions

Huile d'argan, acide strearique végétable, cire d'abeille, glycérine sorbitol, huiles essentielles de rose, huile végétale, vitamine E, conservateur naturel

Laboratory

Florose
Reviews about this product
Show attestation
conocia el producto, lo adquirí por primera vez en Marraquech

Very nice scent. Works very well with my sensitive skin
Customers who bought this product also bought: