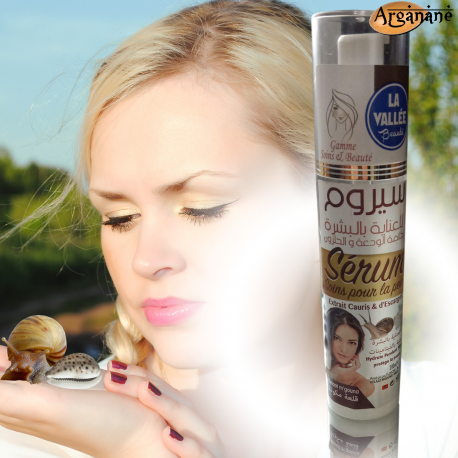  
Sérum de cauris et d'escargot - La Vallée Beauté
Price : 8,90 euros for 200 ml. Skin care serum with cowrie and snail extracts. Hydrates for 24 hours and protects the skin. Effective for treating imperfections such as wrinkles, acne, dark circles, stretch marks ...
Produced in Morocco.
The snail and cowry shells serum is intended for mature or tired skin. It intensely nourishes the skin and actively participates in its rehydration, thanks to its original composition. This gentle serum promotes skin regeneration by reducing blemishes and expression lines.

This serum
- Regenerates skin cells.
- Fights the signs of aging.
- Prevents the appearance of wrinkles.
- Hydrates the skin.
- Nourishes the skin and removes impurities from the skin.

Suitable for all skin types.

Benefits of the serum:

    Nourishes the skin and regenerates cells
    Gives the skin softness and suppleness
    Unifies the color of the skin
    Eliminates black and brown spots on the skin
    Acts effectively on lightening and whitening of the skin
    Delays the appearance of wrinkles and signs of aging
    Helps treat acne

USAGE TIPS :
In daily use. On the face, neck, body, in massages. You will have well nourished skin that is soft and supple to the touch. In the morning after washing as well as in the evening.

Precautions for use: Avoid contact with eyes.
Data sheet
Weight/Capacity

200 ml

Laboratory

Florose
Customers who bought this product also bought: