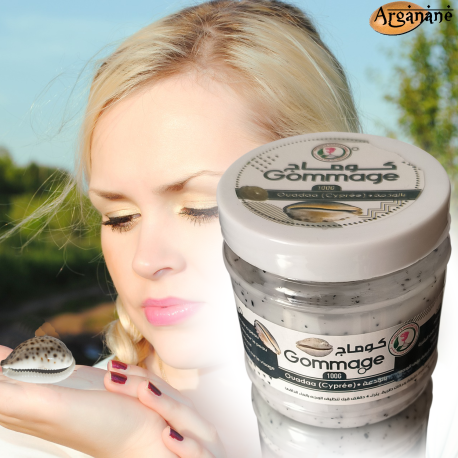  
Gommage cyprée (oudaa) 100 g - Wardat Jnani
Price : 6,90 euros. Natural exfoliating scrub with extracts of shellfish.
Helps get rid of dead cells and impurities, protects against wrinkles and black spots, and removes pimples and acne. Gives the skin softness and clarity.

Produced in Morocco.
The cyprea is a gastropod mollusk of warm seas, commonly known as porcelain. Cyprea shells are very well known in Africa, in particular in Morocco, Algeria but also in Senegal. They make it possible to prepare a traditional treatment intended to treat various skin problems located in particular on the face: blackheads, pigment spots, pimples, dull complexion, "pregnancy mask" (better known under the name of "chloasma") ... This is an old oriental remedy from grandmother which is proving to be very effective.

BENEFITS
- Eliminates dead skin cells.
- Reduces the appearance of wrinkles in the skin and helps nourish and hydrate it.
- Reduces the appearance of fine lines on the face and acne.

Suitable for all skin types.
It is recommended to only use it once or twice a week.
Only for external use.


USAGE TIPS:

"Before use, you should wash the skin with lukewarm water only. Then apply an appropriate amount of scrub to the face or body, then gently rub your skin for a full minute and no more to improve blood circulation and remove dead cells, while avoiding contact of the product with your eyes. Leave for 4 minutes. Then wash it off with lukewarm water and then dry the skin with a soft towel."
Precautions for use: Avoid contact with eyes.
Customers who bought this product also bought: