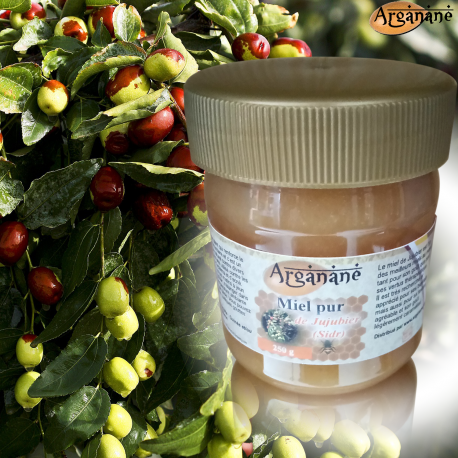  
Miel de Jujubier (Sidr) - ARGANANE
19,90 € les 250 g. Honey Jujube is one of the best honey in the world both for its taste and for its therapeutic virtues.
It is highly sought after and appreciated for its benefits but also for its pleasant texture and taste slightly caramelized.
He is from the jujube, wild tree recognized for thousands of years for its medicinal properties.
It is a stimulant for faculty to strengthen the immune system and is a natural antibiotic against various ailments, such as diabetes, respiratory, digestive and other problems, but it can be also used in cosmetics against problems eczema and acne.
Honey Jujube (Sidr) is good for:
liver problems,
respiratory disorders (asthma, bronchitis)
sinusitis and rhinosinusitis,
stomach ulcers,
respiratory infections,
diseases resulting from malnutrition,
digestive problems,
the constipation,
eye diseases,
infected wounds and burns,
surgical wounds (including caesarean section)
rapid recovery after childbirth,
strengthening the immune system,
health and general vitality.

Honey Jujube is also very concentrated in ascorbic acid, major antioxidant in the fight of the body preventing aging, cancer and arterial disease.
The uniqueness of honey jujube goes even further since it is widely recognized as promoting female fertility besides being an aphrodisiac.
USING ADVICE :
To take every morning fasting or to taste, stir in water at room temperature or in warm milk. You can also add a few drops of lemon.
Keeps in a cupboard away from light for 2 years after opening.

AREAS HARVEST : Guina and/or Mali and/or ​​Morocco.
Data sheet
Weight/Capacity

Pot plastique 250 g
Customers who bought this product also bought: