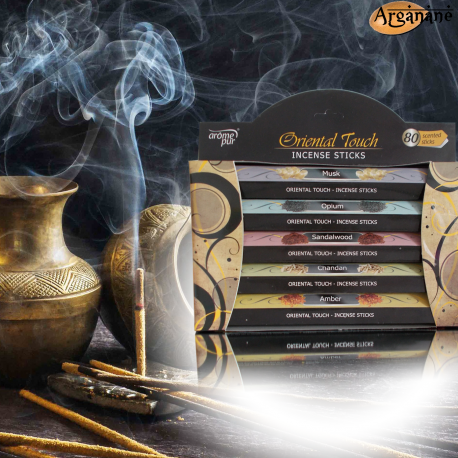  
Encens ambiance orientale
Price : 2 euros the case or 7,90 euros the box of 5.
Incense room purifier. Sold by a hexagonal case of 16 sticks or in a box of 5 cases.
Musk Incense
Symbol of Seduction, Sensuality and Sensitivity, the Incense Musc gives courage and confidence to the timid, distances anxiety and melancholy. He breaks the spells and enchantments.
Opium Incense
Energizes the environment. Awakens the senses in a subtle way and transports us into a mystical world.
Sandalwood Incense
One of the finest Indian scents. Precious incense from Indian Sandalwood. It balances and stabilizes emotions.
Chandan Incense
Chandan Incense brings harmony, peace and serenity. Stabilizes the emotions and calms emotional eddies. Maintains social links. Promotes meditation and prayer.
Amber Incense
Oriental incense with powerful perfume, amber is bewitching and stimulating.
Data sheet
Weight/Capacity

Vendu par étui héxagonal de 16 bâtonnets ou en coffret de 5 étuis
Reviews about this product
Show attestation
Sentent tous très bon, odeur assez forte
Customers who bought this product also bought: