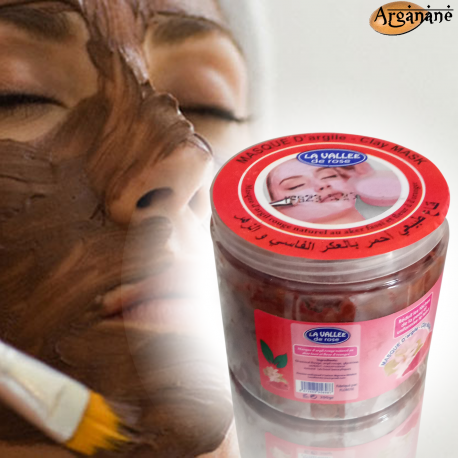  
Masque d'argile rouge à l'aker fassi et fleur d'oranger - La vallée de rose
Price : 5,90 euros. This traditional Moroccan treatment mask with red clay, aker fassi (poppy) and orange blossom is ideal to restore a healthy glow to your face while moisturizing it. It reduces the tasks of the skin and unifies the complexion. It is sold ready to use and to be placed directly on the skin of the face.
The origin
Red Clay is unique and easily distinguished from other clays thanks to its red to brown color. It is mainly composed of hydrated aluminum silicate but above all a high percentage of iron (6 to 9%) explaining its typical color. It is most often of the Illite and Kaolinite type but can also be Montmorillonite.

Benefits of Red Clay
absorbent
coloring
Cleaning
toning
Aker fassi is an organic powder of poppy and dried pomegranate bark. This natural powder is one of the greatest beauty secrets of Berber women in Morocco. The aker fassi gives the face all its radiance. Its antioxidant properties make it an essential anti-wrinkle agent!
It is applied in a thick layer on the face avoiding the eyes, the inside of the nostrils and the inside of the mouth, of course ... Leave the mask on for 30 min, and rinse off with clean water. using a cotton pad.
Data sheet
Weight/Capacity

200 g

Compositions

Ghassoul rouge,argile rouge,glycérine,sorbitol,conservateur naturel (alhcool benzylique)

Laboratory

Florose
Reviews about this product
Show attestation
Where is English selection to read this to give proper review?
Customers who bought this product also bought: