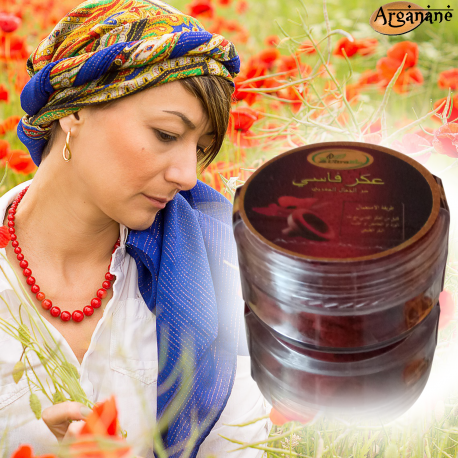  
Poudre d'aker fassi - Coquelicot 10 g
Prix : 5,90 euros. Resulting from the beauty rituals and refinement of Berber women, Poudre de Poudre or Aker Fassi is a 100% natural treatment with pigments of poppies and pomegranate bark dried in the sun.

100% natural product produced in Morocco.
A mixture of poppy powder and dried pomegranate rind, which you can use in 3 ways:


For shinier hair
Aker fassi, mixed with henna, will make your hair softer, and you will have more red highlights. In terms of quantities, count a teaspoon for 100 g of henna. For rinsing, for an optimal effect, use a shampoo with a neutral pH.
For a healthy glow
Aker Fassi can replace your blush. For an easy application, mix a knife tip with your day cream and apply it to the cheeks. Take it gradually, until you get the color you want. In addition, it is also an excellent anti-wrinkle product because it contains flavonoids, with anti-oxidant properties.
For sublimely beautiful lips
Aker fassi can also be used as a lipstick because it permanently colors the lips red. However, don't put aker fassi on chapped lips, as the color will penetrate deeply and you may have a hard time getting it off. Avoid applying lip balm before applying, as the pigments will not set.
To apply it, rub your wet finger, a cotton swab, or even a wet brush on the powder or the red part of the terracotta base containing solid aker fassi. Then color your lips, ironing several times to intensify the shade. For a glamorous and glossy effect, you can finish your makeup with a little lip gloss.
Data sheet
Weight/Capacity

Pot d'environ 10 g

Compositions

Poudre de coquelicot (Papaver rhoeas) et de grenade séchée
Customers who bought this product also bought: