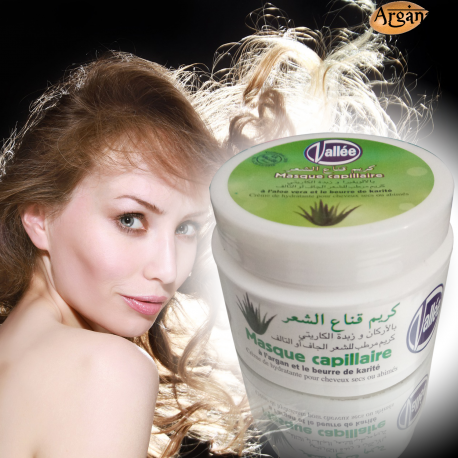  
Masque capillaire à l'aloe vera et beurre de karité - La vallée
Price : 5,90 euros. The combination of aloe vera and shea butter for a hair care with exceptional benefits. The mask with aloe vera and shea butter is ideal for nourishing, repairing and protecting your hair intensely and facilitates detangling.
Moisturizing cream for dry or damaged hair.
Rich in vitamin E, this hair mask is a regenerating treatment of exceptional quality containing 2 major natural ingredients, scientifically recognized for the benefits they bring to the hair: aloe vera and shea butter.
Aloe Vera is a plant known for millennia consisting of 99% water and 75 other components acting in synergy: vitamins, minerals, enzymes and amino acids. It is used for all types of care and remedies, especially in Asian medicine.
In addition to these many virtues when used on the skin (Aloe Vera protects, scars, hydrates and cleanses the skin in depth but it also heals infections such as eczema, psoriasis, etc ... softens the skin, delays skin aging, calms and relieves irritation, etc.) Aloe Vera is also very useful when used on the hair.
This plant works wonders on dry, dull, brittle, damaged and prone to dandruff hair. It revitalizes the hair at the root and restores beauty and shine to the hair, makes it shine and makes it as soft as silk.
It restores vigor, softness and suppleness to the hair while protecting them from external aggressions.
It protects the scalp from external aggressions such as pollution and hydrates it deeply. In addition to protecting the scalp, Aloe Vera is very useful in the treatment of dandruff and excess sebum which, if left untreated, can lead to hair loss.
It also prevents itching and irritation of the scalp because this miraculous plant destroys the bacteria responsible for these inconveniences. It is widely used against the treatment of fungi and sebum deposits that clog the hair follicles.
You can use Aloe Vera on split ends or frizz due to moisture or the natural texture of the hair.
Aloe Vera is useful for people who want to regenerate and activate the growth of their hair. Alternating with garlic, castor or mustard oil, your hair will be stimulated, regenerated, stronger and silky.
You find smooth, shiny and fortified hair. The results are instant! From the first use, you will notice a spectacular effect on the appearance of your hair. Then you just need one application per week to maintain the beauty of your hair.

Directions for use: 1 time per week, apply a little product on your hair after washing it with the shampoo with an argan oil organic shampoo. Massage the scalp and stretch the product from the roots to the tips. Leave on for 10 to 15 minutes then rinse with clear water.

Care suitable for all hair types.
Precautions for use: Avoid contact with eyes.
Data sheet
Weight/Capacity

200 g

Compositions

Eau, cetearyl, Alcool, glycerine, Alcool cétylique, huile minérale, huile d'argan, trethanolamine, acide citrique, butyiène glycol, sorbitol, beurre de karité, aloe vera

Laboratory

Florose
Customers who bought this product also bought: