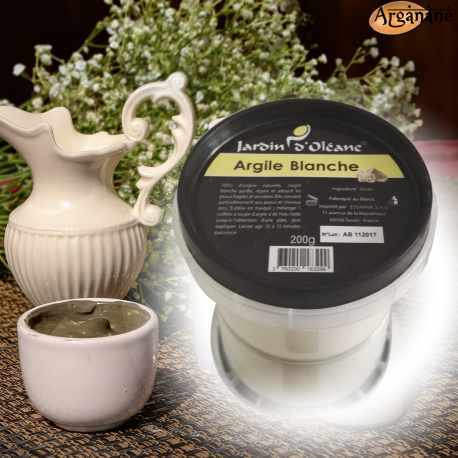  
Argile blanche - Jardin d'Oleane
Price : 5,90 euros. 100% natural, white clay purifies, repairs and softens fragile and sensitive skin. The white clay is soft and therefore dries the skin less, it is the ally of dry skin. It can be used as an anti-aging treatment against wrinkles because it tightens the pores.

Made in Morocco.

It is also called Kaolinite because it belongs to the family of kaolin minerals but there are also other names such as rhassoul or rassoul. It is extracted from the mountains of Morocco and is in the form of white or greyish powder or even more solid form like rock. White clay is often used in cosmetics or pharmacology because it has many more powerful absorbent properties than green clay.

USAGE TIPS :
Use as a mask. Mix a tablespoon of clay with lukewarm water until a dough is obtained, then apply. Leave on for 10 to 15 minutes then rinse.

Data sheet
Weight/Capacity

200 g

Compositions

Kaolin

Laboratory

Jardin d'Oleane
Customers who bought this product also bought: