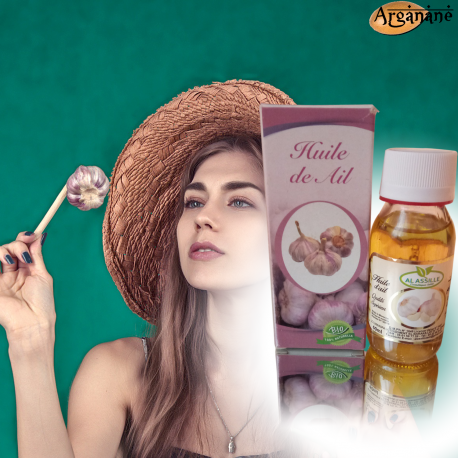  
Huile d'ail 60 ml - Al Assille
Price : 5,90 euros. Al Assille garlic oil 60 ml organic and 100% natural.

fights dandruff

and seborrhea

activates the

scalp

and prevents

hair loss

brightness of

dry and brittle

hair
It seems that according to the studies conducted for more than 5000 years doctors of Assyria, Egypt, India, Greece, China, advise the use of garlic as a therapy ...
Garlic contains vitamins A, B1, B2 and C, iron and various natural antibiotics.
It has incredible qualities in herbal medicine and bactericidal effects are attributed to it

The garlic extract oil fights dandruff and seborrhea.
Active scalp, strengthens and gives shine to dry, brittle hair and prevents hair loss.
For people in whom the hair no longer grows, garlic boosts the activity of the hair bulb.
For dry and brittle hair.
DIRECTIONS FOR HAIR:
Do massage your scalp with this oil.
For this, of massage in circular movements to feel some heat.
Then wrap your hair and wash it the next morning.
Repeat if possible several times a week. To make during 1-2 months.