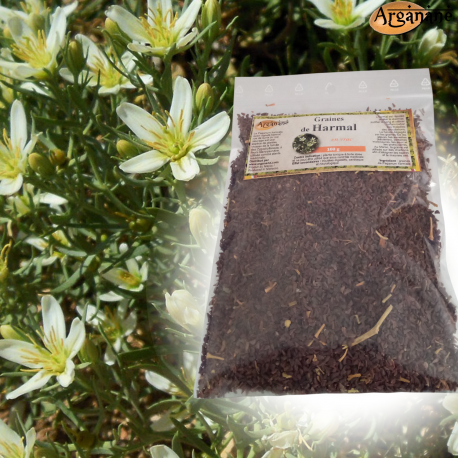  
Graines de Harmal 100 g - ARGANANE
Price : 5,90 euros. Peganum harmala, also called harmal, Syrian street or wild street is a species of perennials of the Zygophyllaceae family, with yellowish-white flowers, used as a medicinal plant.
Produced in Morocco.
Peganum harmala is planted in gardens in the middle east, in Persia for its various medicinal effects: it is known to stop diarrhea, purify the blood and soothe the inflammation of diseases of the joints (rheumatism) ... it kills parasites (parasites, bacteria ... the jinn of modern science).
In Morocco, the seed is used on coals to ward off spirits and the evil eye.

Against indication: toxic plant in high dose and can only be used under medical supervision.
Side effect: digestive disorders, cardiac and neurological.
Data sheet
Weight/Capacity

100 g

Compositions

Peganum Harmala
Reviews about this product
Show attestation
Customers who bought this product also bought: